That's how Gerald Santos described his full-circle return to playing Saint Pedro Calungsod at the restaging of the musical tomorrow (Feb. 22) and next Saturday (Feb. 29) at St. Scholastica's College Manila, and on Tuesday, Feb. 25, at the Music Museum. Yes, from meanie to saintly, referring to his performance as Thuy (the villain) in the Miss Saigon Tour in UK and now as the young martyr he first played during the musical's two-year tour (2014-2016) in the Visayas and Mindanao (Cebu, Davao, Cotabato, Sultan Kudarat, etc.).
"It's somewhat challenging adjusting from being 'bad' to being 'good'," admitted Gerald whose immediate post-Saigon stint was in Sweeney Todd late last year (with Saigon alumna Lea Salonga and Jett Pangan). "Magka-iba ang mindset, magka-iba ang attack. I have to psyche myself before I immerse in the role I am playing. The character Thuy was like a second skin to me for the many months that I was playing him. I had to shake him off as I resumed playing Calungsod."
Gerald has a striking resemblance to Calungsod, the Catholic Filipino migrant, sacristan and missionary catechist who, along with Spanish Jesuit missionary Diego Luis de San Vitores, suffered religious persecution and martyrdom in Guam for their missionary work in 1672. Born on July 21, 1954. In Poblacion, Molo, Iloilo, Calungsod was 18 (he died on April 2, 1672, with the date now observed as his Feast Day). He was venerated on Jan. 27, 2000; beatified on March 5, 2000; and canonized on Oct. 21, 2012, all by Pope Benedict XVI.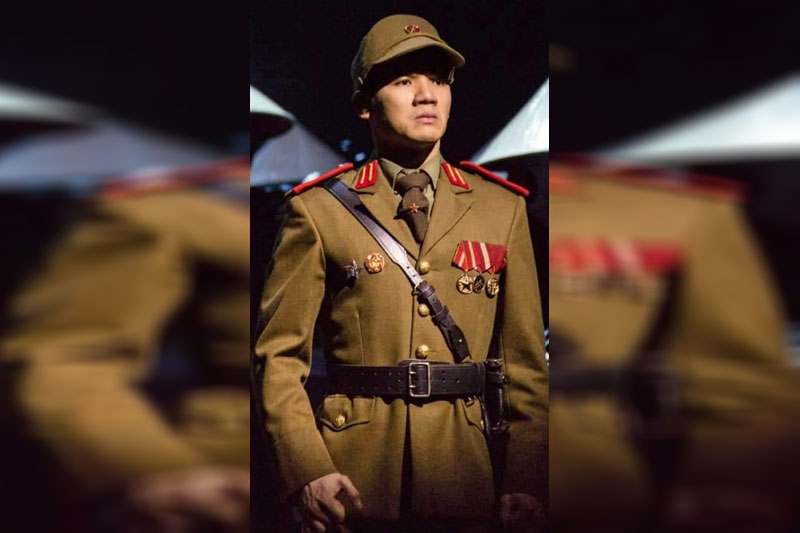 In the six-year interim (between 2014 and 2020), Gerald confessed that he has matured a lot as a person and as a performer. In effect, the musical has also "grown" considerably.
"The rerun is tighter and much improved technically. The music has a live accompaniment. I am applying in this musical what I learned from Miss Saigon," added Gerald who, in interviews, has shared that discipline was one of the important lessons. "I feel that I can portray Calungsod much better now." (Trivia: Sometime in 2013, a movie about Calungsod was produced with Francis Villacorta as director and Rocco Nacino playing the lead as replacement for JM de Guzman.) "I didn't watch that movie so as to avoid my performance being influenced. I want to give the role my own interpretation."
Written and directed by Gerald's manager Cocoy Ramelo, the rerun features 13 original songs, seven of which were composed by Gerald.
In the cast with Gerald are Spanish actor Kuya Manzano (as Fr. Diego), Heidi Arena (as Calungsod's mom), Vince Vicentuan (as Matapang who hurled a spear at San Vitores) and Jhay R. Baccol (as Hirao who stuck him with a machete).
(For tickets, call Ticketworld 8891-9999.)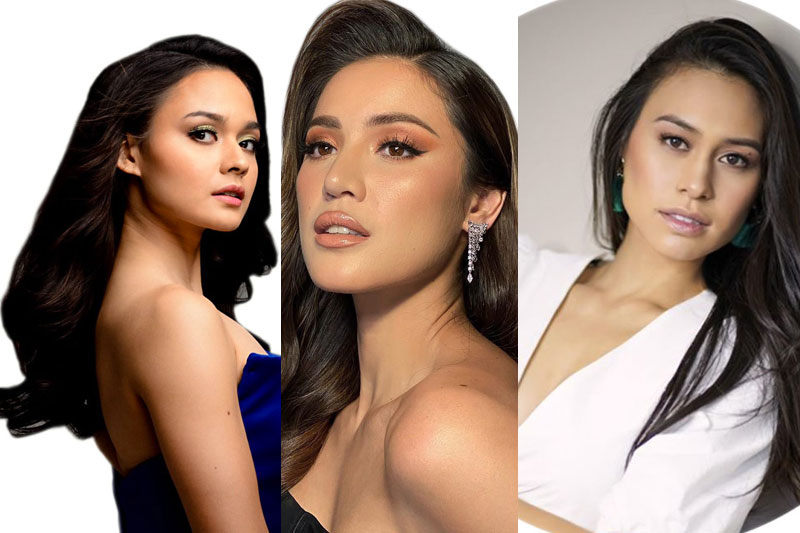 Among the 52 official candidates of the first (2020) Miss Universe Philippines are beauty titlists, from left: Pauline Amelinckx, 2016 Miss Bohol/2018 Mutya ng Pilipinas Global Beauty Queen; 2018 Bb. Pilipinas Globe Michelle Gumabao; and 2014 Bb. Pilipinas-USA/2015 Miss World Philippines semi-finalist Christelle Abello
40 Bb. and 52 Miss U Phl hopefuls
The stage is set for two major beauty pageants — the searches for the 57th Bb. Pilipinas with 40 official candidates and the very first Miss Universe Philippines (set on May 3 at the Mall Of Asia [MOA] Arena) with 52, among them are three title-holders (pictured on this page) following in the footsteps of 2015 Miss Universe Pia Wurtzbach who won on her third try — namely 2018 Bb. Pilipinas Globe Michelle Gumabao (among the Top 15 semi-finalists in that year's Miss Globe pageant held in Albania), 2018 Mutya ng Pilipinas Global Beauty Queen Pauline Amelinckx (2016 Miss Bohol who had 2019 Miss Universe Philippines Gazini Ganados as first runner-up) and Christelle Abello (representing Aklan, her mom's home province) who was 2014 Bb. Pilipinas-USA/2015 Miss World Philippines semi-finalist who was born and raised in San Diego, California, and a Communications graduate from the California State University (CSU).
Funfare's "other beauty expert" Celso de Guzman Caparas noted what he calls "Bb. Pilipinas returnees," including Patrizia Mariah Garcia - 2018 Top 25, also a 2015 Miss Philippines Earth candidate; her mom Jovita Laureola was a 1987 Bb. Pilipinas candidate won by Pebbles Asis (Universe), Lourdes Enriquez (International), Luisa Jimenez (Maja) and Avon Garcia (Tourism); Meiji Cruz - 2012 candidate; Samantha Mae Bernardo - 2018 and 2019, both as second runner-up, also 2013 Miss World Philippines Top 13 semi-finalist; Hannah Arnold - 2019 Top 15 semi-finalist; Honey Grace Cartasano - 2019 Top 25 semi-finalist, also 2019 Miss Tourism World candidate in China and 2019 Miss Tourism World Philippines winner; Alexandra Faith Garcia - 2016 candidate, also 2018 Century Tuna Superbods finalist and 2014 Mutya ng Pilipinas Top 10 finalist; and Vickie Marie Milagrosa Rushton - 2018 first runner-up and 2019 Top 15, also 2011 Mutya ng Pilipinas International winner.
Other aspirants have competed and won in international pageants and some have crossed over from various national pageants.
The 52 Miss Universe Philippines candidates were presented to the media at the Maynila Ballroom of Manila Hotel on Valentine's Day.
Reigning Miss Universe Zozibini Tunzi of South Africa is expected to grace the grand coronation night.
(E-mail reactions at [email protected].)