We are our own worst critic. That's what we often say when we, as individuals, are too harsh on ourselves. But have you ever realized how painful it is to be criticized by others, especially when it comes to body weight? Oftentimes, celebrities are the hapless victims of those who love making judgmental comments whether they be in person or online.
Denise Laurel is no stranger to body-shaming, having received unwarranted remarks about her body. She revealed on her past Instagram post that she was fat-shamed while at work. A portion of it read: "Someone called me fat at work yesterday! :) I love that I'm not even trippin about it:) I love n understand me! yes I'm curvy! On my normal days 34c-25-37 (cause da booty) and the abs are poppin for no reason ;) on my best days my waistline gets even smaller sometimes if everything is in sync i go back to my 23.5 waist! And i still look fat! yesss i know when u are curvy u are one wrong angle, one wrong outfit, one burger away from looking fat… bla bla bla or whatever thats salty haha (I don't process salt n sugar very well so I can retain your to 10 lbs of water LIKE NOW) but we curvez sure do look good in the buff!! Lol haha Jk! Also in our country the range is pretty small it's either u are stick thin or u FAT gurl!..."
The actress admitted she felt sensitive that time. "Well, you know in our culture, that's usually how people greet one another, if I'm being honest. 'O tumaba ka… o pumayat ka,' that's the first thing people say. And there was a point na sensitive ako and somebody said, 'Tumataba ka a, parang bumibilog ka yata,' and I was like, 'That's okay, it's nice to see you, too."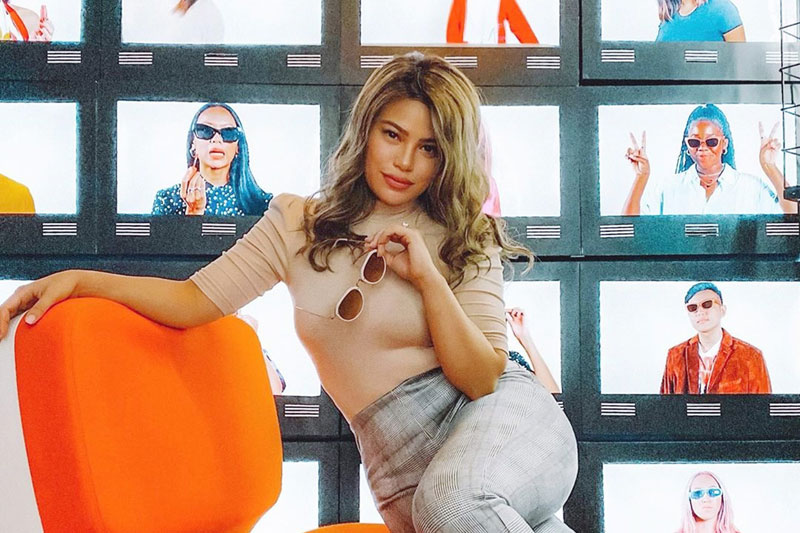 She added that the accompanying caption of her IG photo was intended to remind everyone that one's body weight or shape should not be the gauge of a person's worth.
"I just posted that because I wanted to show people that we have to be sensitive to one another and at the same time love who you are… don't compare."
She continued, "Everybody has a different mold. God doesn't make mistakes in the way that He creates you. And what's different about you is what's gonna make you stand out."
Denise also has a message to her haters: "And for all you guys, all the haters out there, I love you anyway, hahahaha."
Incidentally, her latest single is titled Love You Anyway, which was released last year and it is now available on Spotify and various music platforms. The song, according to her, is an expression of her artistry on another scale. "(It's) another side of me, you know, everybody just sees me on teleseryes. But actually, that's my original side because that's how I got discovered. Mr. M (Johnny Manahan, Star Magic head and consultant) discovered me singing."
But it is in TV acting where she is more active these days. After the ABS-CBN Sunday horror drama series The Haunted that she starred in with Jake Cuenca and Shaina Magdayao, Denise is gearing up for 24/7 with comebacking actress Julia Montes.
Her love life is equally in full bloom with basketball star Sol Mercado. Denise didn't deny feeling hesitant every time she'd be asked questions about him and the marriage thing.
"I just don't want to put pressure on him and I wanna respect his privacy. It's funny because I'm very madaldal and he's not madaldal. He's a very private guy."
Without a doubt, Denise loves the guy so much. "The one thing that I do love about him is his passion for basketball and he's always misunderstood because he's so smart; his basketball IQ is like off the chain and he really just wants to help and share and be part of a team. Sometimes, malakas 'yung dating n'ya kasi 'yung hitsura n'ya but if you listen to what he's saying he just wants to share and help everyone. He's really a team guy… and the hard work that he puts in, I just admire that and that's why I love him," she concluded.